INGCO Pressure Washer is the hottest selling item in the category of Garden tools. It is a multi-purpose machine that helps you save time and energy. INGCO Pressure Washers comes in more than 10 models with different specifications and prices.
Every household needs these Pressure Washers in Today's Time
The 3 Top Selling INGCO Pressure Washer Models
1. High Pressure Washer 1200w (HPWR12008)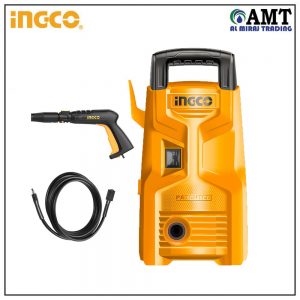 This model is the smallest one having a power of 1200w with Max Pressure:90Bar (1300PSI). The flow rate is 5.5 liter per minute. It is to be noted that although the machine is small in size but it works very efficiently and has an auto stop system to prevent water and power wastage both. This model of High Pressure Washer is good for cleaning ACs, Small vehicles and showering on plants/trees as well.
2. High Pressure Washer 1400w (HPWR14008)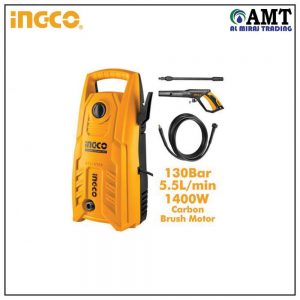 This model is the most running model because of its specifications and price. The power of this model is 1400w with Max Pressure: 130Bar (1900PSI). This model comes with a big gun which also allows the user to attach a foam bottle with it. The foam bottle makes it easier for the user to spread shampoo/cleaning liquid all over the object and save a lot of time. It also has an auto stop system to help prevent power and water wastage. It is best for cleaning vehicles, solar panels, car garages, carpets and related items.
3. High Pressure Washer 1800w (HPWR18008)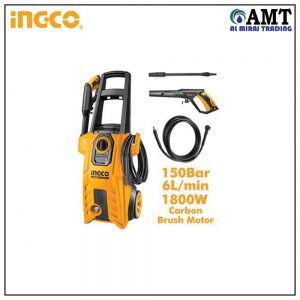 This model is one of its kind. The domestic users can also use this model as it comes with wheels trolley which makes it easier to drag the machine and take it wherever the user wants. This model comes in 1800w with Max Pressure:150Bar (2200PSI), Flow rate 6 liter per minute, Auto Stop system, Soap bottle and 5m hose pipe.
Are There Other Models Available? Yes!
Other than these there are many other models that range from 1500watt – 3000watt. The industrial models are also good in terms of sale and performance both
Click here to see complete variety of Pressure Washers